Current Weather Conditions
This page refreshes automatically every 5 minutes and is best viewed at 1024x768 or higher resolution.
Powered by Ambient Weather Virtual Weather Station V14.01
Page last refreshed July 24, 2014 at 10:37 pm CDT (UTC -6)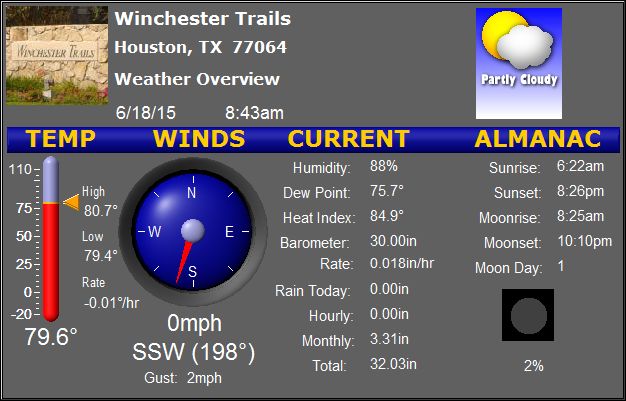 Metric & Other Conversions for Current Observations
Current Temp
28.3 °C
High Temp
34.6 °C
Low Temp
23.8 °C
Current Dew Point
23.5 °C
Heat Index
32.1 °C
Wind Chill
28.3 °C
Barometer
1015.62 mbar
Barometer
761.7 mmHg
Barometer
14.73 psi
Density Altitude: 1621 ft (494.1 m)
Pressure Altitude: 53 ft (16.2 m)
Barometer readings for a Standard Day (59.0 °F/15.0 °C @ sea level): 29.92" Hg, 1013.25 mbar, 757.83 mmHg, 14.70 psi
---
National Weather Service Forecast for:

Jersey Village TX


Issued by: National Weather Service Houston, TX
Updated: 7:20 pm CDT Jul 24, 2014
Overnight


Partly
Cloudy
Friday


Chance
T-Storms
Friday
Night

Partly
Cloudy
Saturday


Mostly
Sunny
Saturday
Night

Partly
Cloudy
Sunday


Mostly
Sunny
Sunday
Night

Partly
Cloudy
Monday


Mostly
Sunny
Monday
Night

Partly
Cloudy
Lo

74 °F

Hi

97 °F

Lo

76 °F

Hi

97 °F

Lo

77 °F

Hi

97 °F

Lo

77 °F

Hi

97 °F

Lo

77 °F
| | |
| --- | --- |
| Overnight | Partly cloudy, with a low around 74. South wind around 5 mph. |
| Friday | A 30 percent chance of showers and thunderstorms, mainly after 1pm. Mostly sunny, with a high near 97. Heat index values as high as 105. South wind 5 to 10 mph. |
| Friday Night | Partly cloudy, with a low around 76. South wind 5 to 10 mph. |
| Saturday | Mostly sunny, with a high near 97. Heat index values as high as 105. South wind 5 to 10 mph. |
| Saturday Night | Partly cloudy, with a low around 77. South wind 5 to 10 mph. |
| Sunday | Mostly sunny, with a high near 97. |
| Sunday Night | Partly cloudy, with a low around 77. |
| Monday | Mostly sunny, with a high near 97. |
| Monday Night | Partly cloudy, with a low around 77. |
| Tuesday | A 20 percent chance of showers and thunderstorms. Partly sunny, with a high near 96. |
| Tuesday Night | A 20 percent chance of showers and thunderstorms. Mostly cloudy, with a low around 77. |
| Wednesday | A 30 percent chance of showers and thunderstorms. Partly sunny, with a high near 95. |
| Wednesday Night | A 20 percent chance of showers and thunderstorms. Mostly cloudy, with a low around 76. |
| Thursday | A 30 percent chance of showers and thunderstorms. Partly sunny, with a high near 93. |
Forecast from NOAA-NWS for Jersey Village TX.
Follow this link for a current verbose area forecast discussion from the NWS.
Forecast Script by Saratoga Weather | Animated icons by Meteo Treviglio
---
Radar and Satellite Imagery


US Current Fronts w/Radar

Southcentral Infrared Satellite

US Jet Stream

Visible Satellite
The WunderMap is interactive - pan and zoom with your mouse.
WunderMap here requires Flash.
If accessing from an iOS device, you can download the Wundermap App from the App Store.

Sea Surface Temp & Tropical System Map
Map Graphics by Weather Underground
---
Rainfall Information
Yesterday's Rain:
0.12 in
Last Rainfall:
Surrounding Area Rainfall Data
NOAA Avg. Rainfall For:
Month to Date
(1971-2000)
Month to Date
(1981-2010)
Year to Date
(1971-2000)
Year to Date
(1981-2010)
Jersey Village:
3.06 in
(1.23 in)
3.65 in
(0.64 in)
27.45 in
(-4 in)
29 in
(-5.55 in)
Intercontinental (KIAH)
2.52 in
3.1 in
26.64 in
27.42 in
Hobby (KHOU)
3.52 in
3.8 in
29.38 in
29.18 in
NOTE: The numbers in parenthesis under the Jersey Village data above indicate how far ahead (green) or behind (red) this station's rain total is compared to the NOAA 1971-2000 and 1981-2010 climate normals data for today's date (Jul 24).
---
Other Current Regional Observations (METARs)
(Ordered by straight-line statute mile distance from this weather station)
A Few More Observations/METARs of Interest to Greg
---
Weather Almanac
NOAA/NWS Daily Historical Weather Browser
Major SE Texas Weather Events
Records and Normals for Jul 24
Temperature
Forecast
Normal
Record
High
93°
92°
102°
(2011)
Low
75°

72°

69°
(2000)
Highs & Lows Observed at This Station
Today
Yesterday
For 7/2014
For 2014
High Temp
94.3°F at 3:47pm
94.2°F at 3:06pm
100.5°F on 7/21/14
100.5°F on 7/21/14
Low Temp
74.9°F at 5:37am
78.7°F at 11:58pm
71.3°F on 7/5/14
22.6°F on 1/7/14
High Dew Point
77.0°F at 2:29pm
78.2°F at 1:16pm
80.1°F on 7/21/14
80.1°F on 7/21/14
Low Dew Point
71.9°F at 2:53am
72.0°F at 11:41pm
66.8°F on 7/11/14
8.4°F on 1/6/14
High Humidity
92% at 5:06am
89% at 8:03am
95% on 7/6/14
98% on 2/5/14
Low Humidity
52% at 3:55pm
52% at 2:48pm
42% on 7/9/14
21% on 4/28/14
High Heat Index
106.8°F at 3:46pm
106.8°F at 3:03pm
117.7°F on 7/21/14
117.7°F on 7/21/14
High Barometer
29.92in at 10:59am
29.95in at 8:44am
30.08in on 7/4/14
30.60in on 1/6/14
Low Barometer
29.80in at 6:44pm
29.83in at 5:29pm
29.71in on 7/17/14
29.41in on 4/27/14
High Wind Speed
9mph at 11:12am
9mph at 11:26pm
24mph on 7/3/14
25mph on 3/16/14
High Wind Gust
9mph at 11:12am
12mph at 11:26pm
24mph on 7/3/14
25mph on 3/12/14
Low Wind Chill
74.9°F at 5:37am
78.7°F at 11:58pm
71.3°F on 7/5/14
11.5°F on 3/3/14
Sun & Moon
Sunrise: 6:38am
Sunset: 8:22pm
Moon Phase:
7%
Moonrise: 4:44am
Moonset: 6:39pm
Star Chart...
---
MesoNet Local Weather Exchange® Network