Current Weather Conditions
This page refreshes automatically every 5 minutes and is best viewed at 1024x768 or higher resolution.
Powered by Ambient Weather Virtual Weather Station V15.00
Page last refreshed Sun February 1, 2015 at 12:07 pm CST (UTC -6) (2015-02-01 18:07 UTC/GMT/Zulu)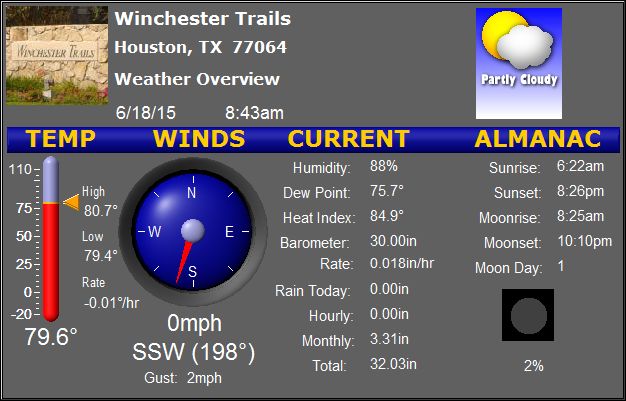 Metric & Other Conversions for Current Observations
Current Temp
24.1 °C
High Temp
24.3 °C
Low Temp
16.1 °C
Current Dew Point
17.1 °C
Heat Index
25.4 °C
Wind Chill
24.1 °C
Barometer
1013.59 mbar
Barometer
760.2 mmHg
Barometer
14.7 psi
Density Altitude: 1205 ft (367.3 m)
Pressure Altitude: 103 ft (31.4 m)
Barometer readings for a Standard Day (59.0 °F/15.0 °C @ sea level): 29.92" Hg, 1013.25 mbar, 757.83 mmHg, 14.70 psi
---
National Weather Service Forecast for:

Jersey Village TX


Issued by: National Weather Service Houston, TX
Updated: 6:20 am CST Feb 1, 2015
This
Afternoon

Chance
Showers
Tonight


Gradual
Clearing
Monday


Sunny

Monday
Night

Partly
Cloudy
Tuesday


Chance
Rain
Tuesday
Night

Rain
Likely
Wednesday


Chance
Rain
Wednesday
Night

Chance
Rain
Thursday


Slight Chc
Rain
Hi

75 °F

Lo

40 °F

Hi

52 °F

Lo

37 °F

Hi

52 °F

Lo

47 °F

Hi

60 °F

Lo

49 °F

Hi

58 °F
| | |
| --- | --- |
| This Afternoon | A slight chance of showers, then a chance of showers and thunderstorms after 3pm. Mostly cloudy, with a high near 75. Southwest wind 10 to 15 mph becoming northwest. Chance of precipitation is 40%. |
| Tonight | Cloudy during the early evening, then gradual clearing, with a low around 40. North wind around 15 mph, with gusts as high as 20 mph. |
| Monday | Sunny, with a high near 52. North wind 5 to 15 mph, with gusts as high as 20 mph. |
| Monday Night | Partly cloudy, with a low around 37. East wind around 5 mph. |
| Tuesday | A 40 percent chance of rain after noon. Mostly cloudy, with a high near 52. East wind around 5 mph. |
| Tuesday Night | Rain likely, mainly before midnight. Cloudy, with a low around 47. Chance of precipitation is 60%. |
| Wednesday | A 40 percent chance of rain. Cloudy, with a high near 60. |
| Wednesday Night | A 30 percent chance of rain. Mostly cloudy, with a low around 49. |
| Thursday | A 20 percent chance of rain. Mostly cloudy, with a high near 58. |
| Thursday Night | Partly cloudy, with a low around 39. |
| Friday | Sunny, with a high near 57. |
| Friday Night | Mostly clear, with a low around 41. |
| Saturday | Sunny, with a high near 64. |
Forecast from NOAA-NWS for Jersey Village TX.
Follow this link for a current verbose area forecast discussion from the NWS.
Forecast Script by Saratoga Weather | Animated icons by Meteo Treviglio
---
Radar and Satellite Imagery


US Current Fronts w/Radar

Southcentral Infrared Satellite

US Jet Stream

Visible Satellite

Sea Surface Temp & Tropical System Map
Map Graphics by Weather Underground
---
Rainfall Information
Yesterday's Rain:
0 in
Last Rainfall:
Surrounding Area Rainfall Data
NOAA Avg. Rainfall For:
Month to Date
(1971-2000)
Month to Date
(1981-2010)
Year to Date
(1971-2000)
Year to Date
(1981-2010)
Jersey Village:
0.12 in
(-0.12 in)
0.12 in
(-0.12 in)
3.83 in
(-1.45 in)
3.63 in
(-1.25 in)
Intercontinental (KIAH)
0.11 in
0.12 in
3.79 in
3.5 in
Hobby (KHOU)
0.12 in
0.13 in
4.37 in
4 in
NOTE: The numbers in parenthesis under the Jersey Village data above indicate how far ahead (green) or behind (red) this station's rain total is compared to the NOAA 1971-2000 and 1981-2010 climate normals data for today's date (Feb 01).
---
Other Current Regional Observations (METARs)
(Ordered by straight-line statute mile distance from this weather station)
A Few More Observations/METARs of Interest to Greg
---
Weather Almanac
NOAA/NWS Daily Historical Weather Browser
Major SE Texas Weather Events
Records and Normals for Feb 1
Temperature
Forecast
Normal
Record
High
73°
61°
81°
(1911)
Low
37°

39°

9°
(1951)
Highs & Lows Observed at This Station
Today
Yesterday
For 2/2015
For 2015
High Temp
75.8°F at 11:49am
63.0°F at 2:39pm
75.8°F on 2/1/15
80.2°F on 1/28/15
Low Temp
60.9°F at 6:15am
46.3°F at 5:45am
60.9°F on 2/1/15
28.8°F on 1/8/15
High Dew Point
63.5°F at 9:34am
58.9°F at 11:56pm
63.5°F on 2/1/15
63.5°F on 2/1/15
Low Dew Point
58.6°F at 6:15am
37.0°F at 12:14am
58.6°F on 2/1/15
11.2°F on 1/8/15
High Humidity
94% at 8:16am
91% at 11:21pm
94% on 2/1/15
98% on 1/2/15
Low Humidity
64% at 11:50am
61% at 12:00am
64% on 2/1/15
24% on 1/18/15
High Heat Index
78.2°F at 11:49am
67.3°F at 11:56pm
78.2°F on 2/1/15
79.6°F on 1/28/15
High Barometer
29.85in at 12:14am
30.17in at 12:00am
29.85in on 2/1/15
30.57in on 1/8/15
Low Barometer
29.81in at 5:59am
29.83in at 10:59pm
29.81in on 2/1/15
29.78in on 1/3/15
High Wind Speed
16mph at 11:11am
12mph at 4:05pm
16mph on 2/1/15
21mph on 1/22/15
High Wind Gust
16mph at 11:11am
13mph at 8:05am
16mph on 2/1/15
21mph on 1/22/15
Low Wind Chill
60.9°F at 6:15am
41.9°F at 6:39am
60.9°F on 2/1/15
20.6°F on 1/8/15
Sun & Moon
Sunrise: 7:10am
Sunset: 5:57pm
Moon Phase:
92%
Moonrise: 4:19pm
Moonset: 5:20am
Star Chart...
---
MesoNet Local Weather Exchange® Network